Crockpot Challenge Menu
This post contains affiliate links, which means I receive a small fee if you make a purchase using this link.
---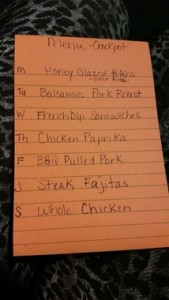 Here it is finally for all of you I promised to put together the week long Crockpot menu and recipes I used during our Challenge earlier this month.  DO NOT forget the Slow Cooker Liners
….they are a life saver!!!!!!!!  I have to say that has been my favorite challenge so far 🙂  I am looking forward to a Grilling Challenge that I will be doing in the next month or two so stay tuned for details.  It should be a lot of fun and perfect for summer that is just around the corner.